NCERT Solutions for Class 8 History Chapter 8 – Women, Caste and Reform (Social Science), contains solutions to various questions in Exercise for Chapter 8. At the end of the Solutions, all the keywords and Notes which are important to understand From Women, Caste and Reform Class 8 History, have been explained in a simple and easy to understand manner. We are providing NCERT Solutions for Class 8 all subjects which can be accessed by clicking here.
NCERT Solutions for Class 8 History Chapter 8 – Women, Caste and Reform – Solutions to Question 1 and Question 2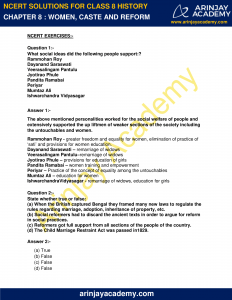 NCERT Solutions for Class 8 History Chapter 8 – Women, Caste and Reform – Solutions to Question 3 to Question 5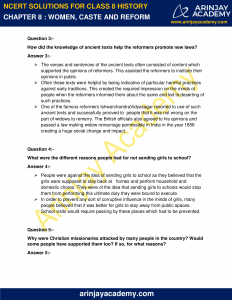 NCERT Solutions for Class 8 History Chapter 8 – Women, Caste and Reform – Solutions to Question 5 to Question 7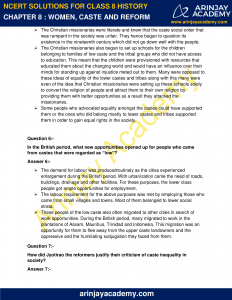 NCERT Solutions for Class 8 History Chapter 8 – Women, Caste and Reform – Solutions to Question 7 to Question 9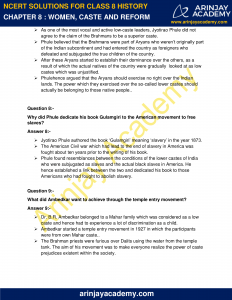 NCERT Solutions for Class 8 History Chapter 8 – Women, Caste and Reform – Solutions to Question 10-Definition of Keywords-Sati, Untouchables, Reformers, Conservative, Equality and Prejudices.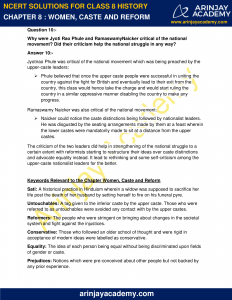 NCERT Solutions for Class 8 History Chapter 8 – Women, Caste and Reform Exercises includes –True/False and Question/Answers which helps you to understand the topic covered in Women, Caste and Reform Class 8 History (Social Science), in a better manner to help you to score good marks in your examinations.
NCERT Solutions for Class 8 History Chapter 8 – Women, Caste and Reform– NCERT Exercises
Question 1:-
What social ideas did the following people support:?
Rammohan Roy
Dayanand Saraswati
Veerasalingam Pantulu
Jyotirao Phule
Pandita Ramabai
Periyar
Mumtaz Ali
Ishwarchandra Vidyasagar
Answer 1:-
The above mentioned personalities worked for the social welfare of people and extensively supported the up liftmen of weaker sections of the society including the untouchables and women.
Rammohan Roy – greater freedom and equality for women, elimination of practice of 'sati' and provisions for women education.
Dayanand Saraswati – remarriage of widows
Veerasalingam Pantulu–remarriage of widows
Jyotirao Phule – provisions for education of girls
Pandita Ramabai – women training and empowerment
Periyar – Practice of the concept of equality among the untouchables
Mumtaz Ali – education for women
IshwarchandraVidyasagar – remarriage of widows, education for girls
Question 2:-
State whether true or false:
(a) When the British captured Bengal they framed many new laws to regulate the rules regarding marriage, adoption, inheritance of property, etc.
(b) Social reformers had to discard the ancient texts in order to argue for reform in social practices.
(c) Reformers got full support from all sections of the people of the country.
(d) The Child Marriage Restraint Act was passed in1829.
Answer 2:-
(a)True
(b)False
(c)False
(d)False
Question 3:-
How did the knowledge of ancient texts help the reformers promote new laws?
Answer 3:-
The verses and sentences of the ancient texts often consisted of content which supported the opinions of reformers. This assisted the reformers to institute their opinions in public.
Often these texts were helpful by being indicative of particular harmful practices against early traditions. This created the required impression on the minds of people when the reformers informed them about the same and led to deserting of such practices.
One of the famous reformers Ishwarchandra Vidyasagar resorted to use of such ancient texts and successfully prooved to people that it was not wrong on the part of widows to remarry. The British officials also agreed to his opinions and passed a law making widow remarriage permissible in India in the year 1856 creating a huge social change and impact.
Question 4:-
What were the different reasons people had for not sending girls to school?
Answer 4:-
People were against the idea of sending girls to school as they believed that the girls were supposed to stay back at  homes and perform household and domestic chores. They were of the idea that sending girls to schools would stop them from performing this ultimate duty they were bound to execute.
In order to prevent any sort of corruptive influence in the minds of girls, many people believed that it was better for girls to stay away from public spaces. School visits would require passing by these places which had to be prevented.
Question 5:-
Why were Christian missionaries attacked by many people in the country? Would some people have supported them too? If so, for what reasons?
Answer 5:-
The Christian missionaries were literate and knew that the caste social order that was rampant in the society was unfair. They hence began to question its existence in the nineteenth century which did not go down well with the people.
The Christian missionaries also began to set up schools for the children belonging to families of low caste and the tribal groups who did not have access to education. This meant that the children were provisioned with resources that educated them about the changing world and would have an influence over their minds for standing up against injustice meted out to them. Many were opposed to these ideas of equality of the lower castes and tribes along with this many were even of the idea that Christian missionaries were setting up these schools solely to convert the religion of people and attract them to their own religion by providing them with better opportunities as a result they attacked the missionaries.
Some people who advocated equality amongst the castes could have supported them or the ones who did belong mostly to lower castes and tribes supported them in order to gain equal rights in the society.
Question 6:-
In the British period, what new opportunities opened up for people who came from castes that were regarded as "low"?
Answer 6:-
The demand for labour was producedroutinely as the cities experienced enlargement during the British period. With urbanization came the need of roads, buildings, drainage and other facilities. For these purposes, the lower class people got ample opportunities for employment.
The labour requirement for the above purposes was met by employing those who came from small villages and towns. Most of them belonged to lower social strata.
These people of the low caste also often migrated to other cities in search of work opportunities. During the British period, many migrated to work in the plantations of Assam, Mauritius, Trinidad and Indonesia. This migration was an opportunity for them to flee away from the upper caste landowners and the oppressive and the humiliating subjugation they faced from them.
Question 7:-
How did Jyotirao the reformers justify their criticism of caste inequality in society?
Answer 7:-
As one of the most vocal and active low-caste leaders, Jyotirao Phule did not agree to the claim of the Brahmans to be a superior caste.
Phule believed that the Brahmans were part of Aryans who weren't originally part of the Indian subcontinent and had entered the country as foreigners who defeated and subjugated the true children of the country.
After these Aryans started to establish their dominance over the others, as a result of which the actual natives of the country were gradually looked at as low castes which was unjustified.
Phulehence argued that the Aryans should exercise no right over the Indian lands. The power which they exercised over the so-called lower castes should actually be belonging to those native people..
Question 8:-
Why did Phule dedicate his book Gulamgiri to the American movement to free slaves?
Answer 8:-
Jyotirao Phule authored the book 'Gulamgiri' meaning 'slavery' in the year 1873.
The American Civil war which had lead to the end of slavery in America was fought about ten years prior to the writing of his book.
Phule found resemblances between the conditions of the lower castes of India who were subjugated as slaves and the actual black slaves in America. He hence established a link between the two and dedicated his book to those Americans who had fought to abolish slavery.
Question 9:-
What did Ambedkar want to achieve through the temple entry movement?
Answer 9:-
B.R. Ambedkar belonged to a Mahar family which was considered as a low caste and hence had to experience a lot of discrimination as a child.
Ambedkar started a temple entry movement in 1927 in which the participants were from own Mahar caste..
The Brahman priests were furious over Dalits using the water from the temple tank. The aim of his movement was to make everyone realize the power of caste prejudices existent within the society.
Question 10:-
Why were Jyoti Rao Phule and RamaswamyNaicker critical of the national movement? Did their criticism help the national struggle in any way?
Answer 10:-
Jyotirao Phule was critical of the national movement which was being preached by the upper-caste leaders:
Phule believed that once the upper caste people were successful in uniting the country against the fight for British and eventually lead to their exit from the country, this class would hence take the charge and would start ruling the country in a similar oppressive manner disabling the country to make any progress.
Ramaswamy Naicker was also critical of the national movement:
Naicker could notice the caste distinctions being followed by nationalist leaders. He was disgusted by the seating arrangements made by them at a feast wherein the lower castes were mandatorily made to sit at a distance from the upper castes.
The criticism of the two leaders did help in strengthening of the national struggle to a certain extent with reformists starting to restructure their ideas over caste distinctions and advocate equality instead. It lead to rethinking and some self-criticism among the upper-caste nationalist leaders for the better.
Topics Covered in Chapter 8 – Women, Caste and Reform Class 8 History (Social Science)
Working Towards Change
Changing the lives of widows
Girls begin going to school
Caste and Social Reform
Demands for equality and justice
Gulamgiri
Who could enter temples?
The Non-Brahman movement
Black slaves and white planters
Important Terms Relevant for NCERT Solutions for Class 8 History Chapter 8 – Women, Caste and Reform :
Sati: A historical practice in Hinduism wherein a widow was supposed to sacrifice her life post the death of her husband by setting herself to fire on his funeral pyre.
Untouchables: A tag given to the inferior caste by the upper caste. Those who were referred to as untouchables were avoided any contact with by the upper castes.
Reformers: The people who were stringent on bringing about changes in the societal system and fight against the injustices.
Conservative: Those who followed an older school of thought and were rigid in acceptance of modern ideas were labelled as conservative.
Equality: The idea of each person being equal without being discriminated upon fields of gender or caste.
Prejudices: Notions which were pre-conceived about other people but not backed by any prior experience.