NCERT Solutions for Class 8 History Chapter 10 – India After Independence (Social Science), contains solutions to various questions in Exercise for Chapter 10. At the end of the Solutions, all the keywords and Notes which are important to understand From India After Independence Class 8 History, have been explained in a simple and easy to understand manner. We are providing NCERT Solutions for Class 8 all subjects which can be accessed by clicking here.
NCERT Solutions for Class 8 History Chapter 10 – India After Independence – Solutions to Question 1 to Question 3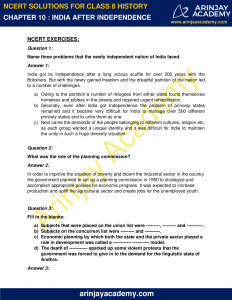 NCERT Solutions for Class 8 History Chapter 10 – India After Independence – Solutions to Question 3 to Question 6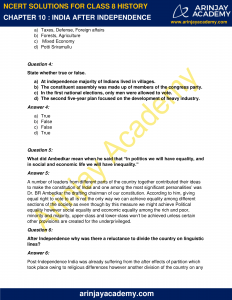 NCERT Solutions for Class 8 History Chapter 10 – India After Independence – Solutions to Question 6 to Question 9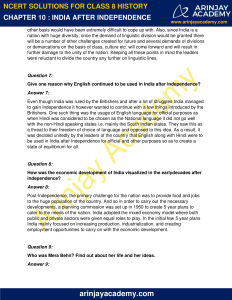 NCERT Solutions for Class 8 History Chapter 10 – India After Independence – Solutions to Question 9 and Question 10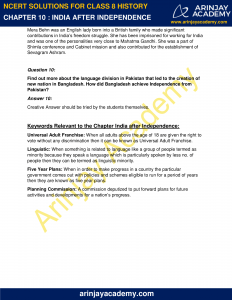 NCERT Solutions for Class 8 History Chapter 10 – India After Independence Exercises includes Fill in the blanks, True/False and Question/Answers which helps you to understand the topic covered in India After Independence Class 8 History (Social Science), in a better manner to help you to score good marks in your examinations.
NCERT Solutions for Class 8 History Chapter 10 – India After Independence– NCERT Exercises
Question 1:
Name three problems that the newly independent nation of India faced.
Answer 1:
India got its Independence after a long vicious scuffle for over 200 years with the Britishers. But with the newly gained freedom and the dreadful partition of the nation led to a number of challenges.
(a)Owing to the partition a number of refugees from either sides found themselves homeless and jobless in the streets and required urgent rehabilitation.
(b)Secondly, even after India got Independence the problem of princely states remained and it became very difficult for India to manage over 500 different princely states and to unite them as one.
(c)Next came the demands of the people belonging to different cultures, religion etc. as each group wanted a unique identity and it was difficult for India to maintain the unity in such a huge diversity situation.
Question 2:
What was the role of the planning commission?
Answer 2:
In order to improve the situation of poverty and bloom the industrial sector in the country the government planned to set up a planning commission in 1950 to strategize and accomplish appropriate policies for economic progress. It was expected to increase production and uplift the agricultural sector and create jobs for the unemployed youth.
Question 3:
Fill in the blanks:
(a)Subjects that were placed on the union list were _____, _____ and _____.
(b)Subjects on the concurrent list were _____ and _____.
(c)Economic planning by which both the state and the private sector played a role in development was called a ________ model.
(d)The death of ________ sparked up some violent protests that the government was forced to give in to the demand for the linguistic state of Andhra.
Answer 3:
(a)Taxes, Defense, Foreign affairs
(b)Forests, Agriculture
(c)Mixed Economy
(d)Potti Sriramullu
Question 4:
State whether true or false.
(a)At independence majority of Indians lived in villages.
(b)The constituent assembly was made up of members of the congress party.
(c)In the first national elections, only men were allowed to vote.
(d)The second five-year plan focused on the development of heavy industry.
Answer 4:
(a)True
(b)False
(c)False
(d)True
Question 5:
What did Ambedkar mean when he said that "In politics we will have equality, and in social and economic life we will have inequality."
Answer 5:
A number of leaders from different parts of the country together contributed their ideas to make the constitution of India and one among the most significant personalities' was Dr. BR Ambedkar the drafting chairman of our constitution. According to him, giving equal right to vote to all is not the only way we can achieve equality among different sections of the society as even though by this measure we might achieve Political equality however social equality and economic equality among the rich and poor, minority and majority, upper-class and lower-class won't be achieved unless certain other provisions are created for the underprivileged.
Question 6:
After Independence why was there a reluctance to divide the country on linguistic lines?
Answer 6:
Post-Independence India was already suffering from the after effects of partition which took place owing to religious differences however another division of the country on any other basis would have been extremely difficult to cope up with. Also, since India is a nation with huge diversity, once the demand of linguistic division would be granted there will be a number of other challenges created for future and several demands of divisions or demarcations on the basis of class, culture etc. will come forward and will result in further damage to the unity of the nation. Keeping all these points in mind the leaders were reluctant to divide the country any further on linguistic lines.
Question 7:
Give one reason why English continued to be used in India after Independence?
Answer 7:
Even though India was ruled by the Britishers and after a lot of struggles India managed to gain Independence it however wanted to continue with a few things introduced by the Britishers. One such thing was the usage of English language for official purposes as when Hindi was considered to be chosen as the National language it did not go well with the non-Hindi speaking states i.e. mainly the South Indian states. They saw this as a threat to their freedom of choice of language and opposed to this idea. As a result, it was decided unitedly by the leaders of the country that English along with Hindi were to be used in India after Independence for official and other purposes so as to create a state of equilibrium for all.
Question 8:
How was the economic development of India visualized in the early decades after independence?
Answer 8:
Post-Independence, the primary challenge for the nation was to provide food and jobs to the huge population of the country. And so in order to carry out the necessary developments, a planning commission was set up in 1950 to create 5 year plans to cater to the needs of the nation. India adopted the mixed economy model where both public and private sectors were given equal roles to play. In the initial few 5 year plans India mainly focused on increasing production, industrialization, and creating employment opportunities to carry on with the economic development.
Question 9:
Who was Mera Behn? Find out about her life and her ideas.
Answer 9:
Mera Behn was an English lady born into a British family who made significant contributions in India's freedom struggle. She has been imprisoned for working for India and was one of the personalities very close to Mahatma Gandhi. She was a part of Shimla conference and Cabinet mission and also contributed for the establishment of Sevagram Ashram.
Question 10:
Find out more about the language division in Pakistan that led to the creation of new nation in Bangladesh. How did Bangladesh achieve Independence from Pakistan?
Answer 10:
Creative Answer should be tried by the students themselves.
Topics Covered in Chapter 10 – India After Independence Class 8 History (Social Science)
A New and Divided Nation
A Constitution is Written
How were States to be Formed?
Planning for Development
The Nation, Sixty Years On
What happened in Sri Lanka
Important Terms Relevant for NCERT Solutions for Class 8 History Chapter 10 – India After Independence :
Universal Adult Franchise: When all adults above the age of 18 are given the right to vote without any discrimination then it can be known as Universal Adult Franchise.
Linguistic: When something is related to language like a group of people termed as minority because they speak a language which is particularly spoken by less no. of people then they can be termed as linguistic minority.
Five Year Plans: When in order to make progress in a country the particular government comes out with policies and schemes eligible to run for a period of years then they are known as five year plans.
Planning Commission: A commission deputized to put forward plans for future activities and developments for a nation's progress.