Article 6 Income from Immovable property – Transaction Envisaged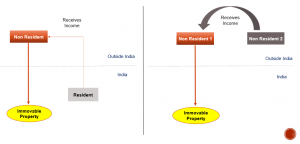 KEY QUESTIONS
Immovable Property Covered ?
Right of India to Tax
Right of Treaty Partner to Tax
ARTICLE 6(1) – INDIA USA – RIGHT OF INDIA AND US (FOREIGN STATE) TO TAX IFIP
Income derived by a resident of a Contracting State (NR)
from immovable property (real property),
including income from agriculture or forestry
situated in the other Contracting State (India)
may be taxed (both States have right to tax)
in that other State (India)
ARTICLE 6(3) – NATURE OF INCOME FROM IMMOVABLE PROPERTY COVERED UNDER ARTICLE 6
The provisions of paragraph 1
shall also apply to
income derived from the
direct use,
letting, or
use in any other form
of immovable property
KEY ISSUES IN ARTICLE 6(1)
CASE 1 – WOULD INDIA GERMANY TREATY APPLY TO PROPERTY 1 & 3 ?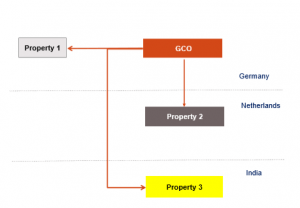 WHAT IS THE MEANING OF "INCOME" ?
Definition of Section 2(24) of the IT Act 1961
"Use" of immovable property could be in any form
Transfer of immovable property and gains thereon covered by Article 13
"MAY BE TAXED" – PROTOCOL TO THE INDIA MALAYSIA TAX TREATY
It is understood that
the term "may be taxed in the other State"
wherever appearing in the Agreement
should not be construed as preventing
the country of residence
from taxing the income.
ARTICLE 6(2) – MEANING OF IMMOVABLE PROPERTY
The term "immovable property"
shall have the meaning
which it has under the law of the Contracting State
in which the property in question is situated.
ARTICLE 6(2) – MEANING OF IMMOVABLE PROPERTY
The term shall in any case include property accessory to immovable property, livestock and equipment used in agriculture and forestry, rights to which the provisions of general law respecting landed property apply, usufruct of immovable property and rights to variable or fixed payments as consideration for the working of, or the right to work, mineral deposits, sources and other natural resources
ships, boats and aircraft shall not be regarded as immovable property
ARTICLE 6(4) – PROPERTY USED FOR PROVDING IPS
The provisions of paragraphs 1 and 3 shall also apply
to the
income from immovable property of an enterprise and
to income from immovable property used for the performance of
independent personal services.
COMPUTATION OF INCOME IN SOURCE STATE
Article 6 does not provide methodology of computing income in Source State
Taxable income should be computed as per Domestic law of Source State – Nature and extent of any deductions for expenses etc. to be governed by provision of IT Act
Withholding tax may apply as per provision of Domestic laws on gross basis.