Download CBSE Class 12 Maths Sample Paper – Questions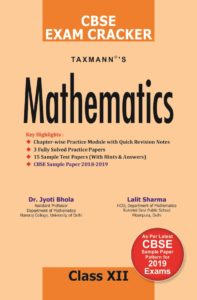 About the Book
"CBSE Exam Cracker : Mathematics – Class XII"   intends to cater to the principal needs of all the students preparing for Class XII Mathematics CBSE Examination 2019. The book has been published by Taxmann Publication , India.
The book contains sufficient practice material presented in an extremely student-friendly yet exhaustive manner.
Key features of the book include:
A quick review of every chapter with an "Evaluate yourself" section at the end of each chapter, for streamlined revision of the syllabus.
3 Fully-Solved Practice Papers.
15 Sample Test Papers (with answers).
CBSE Sample Paper – 2018-2019
Price – INR 350 (20% discount for limited Period)
Call 9667222008
The book has been designed as per the latest CBSE syllabus and adheres to the pattern of the latest CBSE Class 12 Maths Sample Paper : 2018-19.
JYOTI BHOLA
LALIT SHARMA