What is an E-commerce transaction
E-commerce are transactions (consumer or business) of buying or selling online, through the use of computers / mobiles/ telecommunications. Electronic commerce draws on technologies such as : –
a) mobile commerce,
b) electronic funds transfer,
c) supply chain management,
d) Internet marketing,
e) online transaction processing,
Modern electronic commerce typically uses the World Wide Web (www.) for at least one part of the transaction's life cycle alongwith other technologies such as e-mail. Mobile applications are also used extensively for e-commerce transactions.
For example – Online  transaction via Amazon, Flipkart, Snapdeal, Alibaba, Paytm, etc., are covered under the definition of e-commerce.
E COMMERCE TRANSACTION – BEPS
BEPS report defines E-commerce transaction as under : –
a) Sale or purchase of goods or services, conducted over computer networks by methods specifically designed for the purpose of receiving or placing of orders;
b) While ordering could be done by those methods, payment and the ultimate delivery of the goods or service may be conducted offline/physically;
c) E commerce transaction can be between enterprises, households, individuals, governments, and other public or private organisations.
ISSUES IN E COMMERCE TRANSACTIONS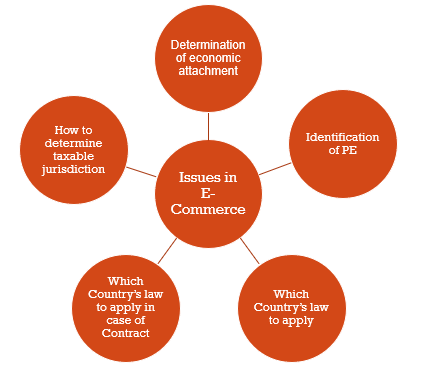 DETERMINATION OF ECONOMIC ATTACHMENT
The situs of transaction (i.e., location of transaction) should be clearly determined in order to identify economic attachment.
In traditional commercial transaction, the situs of transaction could be easily determined due to physical presence of seller and physical delivery of goods/services.
Thus, source rule (as laid down in Section 5 and Section 9 of the IT Act, 1961) could be easily be easily applied in case of traditional commercial transaction.
However, E-Commerce transactions being completed in cyberspace (i.e., online), it is quite difficult to determine the location of transaction. Thus, it is often impossible to apply source rule in case of E-Commerce transactions.
IDENTIFICATION OF PE
The Source State can exercise taxation rights over business profits of foreign company only when foreign company does business through its Permanent Establishment situated in Source State.
Nowdays most of the transactions happen online (like transactions on Amazon, E-Bay, Flipkart, etc.), this makes the place of business invisible.
The BEPS initiative has highlighted such issues and has provided recommendations to solve such issues relating to E-Commerce Transactions.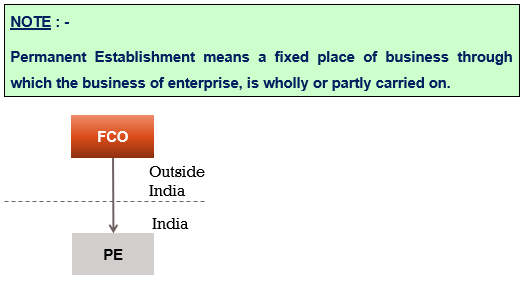 WHICH COUNTRY'S LAW TO APPLY ?
In case of E-Commerce transactions, the contracting parties (i.e., buyer and seller or service receiver and service provider) are located in two different Countries. Therefore, there is a need to determine which country's law would be applicable.
WHICH COUNTRY'S LAW TO APPLY IN CASE OF CONTRACT
Contract should not be in writing and it can also be oral. Thus, E-Commerce transactions made through oral contract would create problems since in that case it would be difficult to determine which Country's law would apply in case of disputes.
Such problems mostly arise in respect to transactions relating to movables.
HOW TO DETERMINE TAXABLE TERRITORY?
Taxable jurisdiction of any Country covers its national boundary. Further, territorial jurisdiction includes territorial sea and airspace above as per the territorial waters, continental shelf, exclusive economic zone and other Maritime Zones Act, 1976.
In case of E-Commerce transaction it is quite impossible to determine the taxable jurisdiction since such transactions take place online through internet.