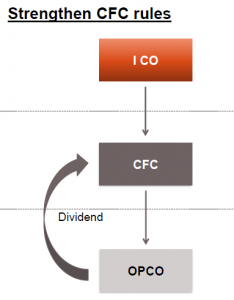 In certain cases, taxpayers who have controlling interest in a foreign subsidiary, can use intermediary companies (referred to as a "Controlled Foreign Corporation" or "CFC") to reduce or defer the tax base of their country of residence, by shifting/retaining their income into a CFC jurisdiction.
Since a shareholder in Home Country (ICO) is not taxed on the corporation's income until it is distributed as a dividend, it results in deferral of income
OECD Final Report does not propose a minimum standard for controlled foreign company (CFC) regimes . This was due to the fact that there was fundamental disagreement over the policy of CFC regimes, in particular whether states should use the regime to protect other states' tax bases from earnings stripping
The Action Plan on Base Erosion and Profit Shifting recommended, creation of six building blocks for the design of effective CFC rules. The same are as follows :-
Definition of CFC, should cover not only corporate entities, but OECD also recommends application of CFC rules to non-corporate entities, if they earn income that raises BEPS concerns which are not addressed.
CFC exemptions (where companies suffer effective tax rate equal to home countries) and threshold requirements
Definition of income, are included in CFC rules, which can be suitably modified by countries
Computation of income – CFC income should be computed as per parent's law jurisdiction
Attribution of income – It should be based on control threshold and proportionate ownership
Prevention and elimination of double taxation through credit in parent's jurisdiction for foreign tax paid on CFC income
While these recommendations are not minimum standards, they are designed to create rules that effectively prevent taxpayers from shifting income into foreign subsidiaries.
INDIAN SCENARIO
CFC rules were part of the proposed Direct Tax Code which never saw the light of the day
There are no CFC rules in the Income-taxAct, 1961 ;
Section 115BBD provides a concessional gross tax rate of 15% on dividends received from a specified foreign company in which the Indian company holds 26% or more in the nominal value of the equity share capital.
ACTION PLAN – 4 – INTEREST DEDUCTIONS AND OTHER FINANCIAL P A YMENTS
Multinational groups can reduce their taxes in source countries by changing debt levels of individual group entities, via intra-group financing through use of financial instruments, which are interest deductible and escape restrictions on interest deductibility (example, compulsorily Convertible Debentures).
To address these risks, the report analyses several best practices and recommends various
Rules as under :-
Group Wide Rules
Under these Rules, the availability of interest deductions, within the group, is limited to the overall third-party interest expense, incurred by the group. Thereafter, the interest expense allocated to an entity should be matched with economic activity by that entity. This approach ensures that an entity's net deductions are directly linked to the taxable income generated by its economic activities.
Fixed Ratio Rule
Under this rule, the deduction for interest and payments economically equivalent to interest is

limited to a percentage of its earnings before interest, taxes, depreciation and amortization (EBITDA), which could be

ratios of between 10% and 30%. If a country does not introduce a group ratio rule, it should apply the fixed ratio rule to multinational and domestic groups without improper discrimination.
INDIAN POSITION
In India, the above approach has been adopted by insertion of  Section 94B by the Finance Act, 2017. Section
94B provides that interest expenses paid by an Indian company or a Permanent establishment ("PE") of a foreign company in India to its Associated Enterprises shall be restricted to 30 percent of its earnings before interest, taxes, depreciation and amortization (EBITDA) or interest paid or payable to Associated Enterprise, whichever is less. The disallowed portion of the interest expense will be allowed to be carried forward to eight assessment years immediately succeeding the assessment year for which the disallowance was first made.
The Fixed Ratio Rule, can be supplemented by a worldwide group ratio rule. This would allow an entity with net interest expense above a country's fixed ratio, to deduct interest up to the level of the net interest/EBITDA ratio of its worldwide group.
The intragroup interest payments are also subject to the transfer pricing rules. OECD Report Aligning Transfer Pricing Outcomes with Value Creation (OECD, 2015), limit the amount of interest payable to group companies lacking appropriate substance, to risk-free return on the funding.
ACTION PLAN – 4 – INTEREST DEDUCTIONS AND OTHER FINANCIAL PAYMENTS – UPDATED 2016 VERSION
Updated version of BEPS Action 4 includes further guidance on two areas:-
Design and operation of the group ratio rule : – The report included a detailed outline of a rule based on the net third party interest/EBITDA ratio of a consolidated financial reporting group, and provided that further work would be conducted in 2016 on elements of the design and operation of the rule.
Deal with risks posed by the banking and insurance sectors : – The updated report examines regulatory and commercial requirements, which constrain the ability of groups to use interest for BEPS purposes, and limits on these constraints