In order to enhance the capabilities of CA Inter pass students who could not clear their final examinations, Board of Studies is organizing a 30 hours (10 days@3 hours per day) training course on GST Laws for such students. The training course has been designed to teach the students with both theoretical and practical aspects of GST Law so as to increase their employability in the job market.The training course will be jointly organised with Indirect Taxes Committee of the ICAI having specialized knowledge in the area of GST.
The salient features of the training course are–
 30 hours course through Virtual mode.
 Registration Fee is Rs.1000/- per student.
 Faculty shall be Pan India basis.
 Free background study material after registration and payment online.
 Affordable since student can learn from their comfort of your own home without any travel costs.
 Convenient as student can study at their own convenience.
 Seamless delivery as every student has access to the same material.
 Live video and tech support
 One to one communication through online query redressal
 Recorded sessions available
 Online registration and payment
The schedule of 30 hours session of the Course on GST is as under: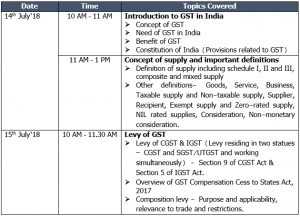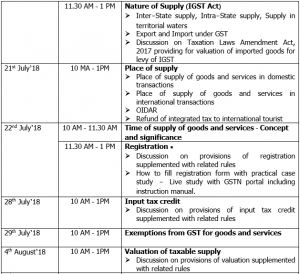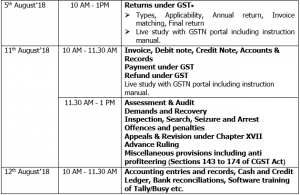 Standard Operating Procedure (SOP):
 Link for registration: http://ccm.icai.org/?progid=1895
 After successful registration and payment, an User ID and Password would be generated and will be sent to his/her email ID mentioned at the time of registration.
 The course will be conducted through live webcast.
 Students will be able to view the session in his laptop/mobile/computer from any place having internet connectivity.
 Students will also be able to post their queries to the faculty online.
 On successful completion of course, e-participation certificate shall be issued. Students will be able to download the participation certificate and can take the printout of the participation certificate.