HOW BUSINESS IS TRANSACTED THROUGH E-COMMERCE AND PREVALENT BUSINESS FORMS IN VARIOUS SEGMENTS OF DIGITAL ECONOMY?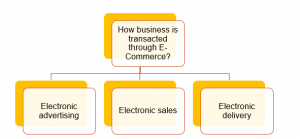 ELECTRONIC ADVERTISING
 Electronic advertising is done through internet on various platforms, like Facebook, Google, Linkedin, etc.
In electronic advertising order may be placed online but the rest of the transactions could be completed by traditional means like, making payment via 'cash on delivery' (COD) or cheque, delivery of goods through courier, etc.
ELECTRONIC SALES
  Electronic sales is done certain resource which enables the customer to place an order online.
FOR EXAMPLE :-
Sales made by third party vendors via Amazon, Flip kart, Paytem, etc. would be termed as electronic sales.
ELECTRONIC DELIVERY
Electronic delivery is possible only for electronic goods and services like texts, audio material, e-books, e-designs, games, etc. Thus, numerous goods and services could be delivered digitally or electronically.
PREVALENT BUSINESS FORMS IN VARIOUS SEGMENTS OF DIGITAL ECONOM

BUSINESS-TO-BUSINESS MODELS (B2B MODEL)
 

B2B E-commerce transactions consists of sale of products or services by one business to another business.
In such    transactions,    both     the       buyer   and      sellers  are       a business entity.
FOR EXAMPLE : –
Online advertisements placed on websites by businesses, cloud computing services taken by organisations, etc.
BUSINESS-TO-CONSUMER MODELS (B2C)
In B2C business model, one business sells goods or services to individuals acting outside the scope of their profession.
B2C models fall into several categories,including : -"Pureplay" online vendors with no physical stores or offline presence – Online education website;"
Click-and-mortar" businesses
Manufacturers that use online business to allow customers to order and customise directly.
For Example :-
Online shopping, online tour operators, email, etc.
CONSUMER-TO-CONSUMER MODELS (C2C)
These transactions are becoming more and more common. Businesses involved in C2C e-commerce play the role of intermediaries, helping individual consumers to sell or rent their assets (such as residential property, cars, motorcycles, etc.) by publishing their information on the website and facilitating transactions.
FOR EXAMPLE : –
Quicker.com, Olx.com, etc.
BUSINESS-TO-GOVERNMENT MODELS (B2G)
B2G refers to business conducted between private firms and Government.
It covers contracts for goods, services and information , between private players and government at all levels (state, local and federal).
FOR EXAMPLE : –
•  Business' providing service to a local government agency.
GOVERNMENT-TO-CONSUMER MODELS (G2C)
G2C concept is used for relationship between public administration and citizens, like demand for information from the citizen in any life situation or a transfer of an official document to the citizen.
FOR EXAMPLE:-
Office website Ministry of Corporate Affairs (MCA) or public service catalog.
Reader Interactions