TAX AVOIDANCE AND KINDS OF ANTI-AVOIDANCE MEASURES
TAX AVOIDANCE
"Tax avoidance" is an

art of reducing

or not paying any taxes by a person, without violating any tax law.
Since tax avoidance, Government's revenue collections, the measures deployed by them to check and control tax avoidance are called "Anti – Avoidance measures".
 KINDS OF ANTI-AVOIDANCE MEASURES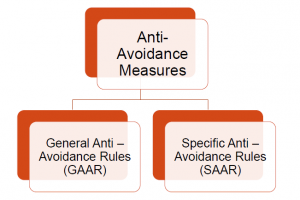 NEED TO DISTINGUISH BETWEEN LEGITIMATE TAX PLANNING OR "TAX AVOIDANCE" AND "TAX EVASION" 
There is always a thin line of difference between acceptable tax avoidance, also known as tax planning (which is legal) and unacceptable tax avoidance (which is illegal)
TAX PLANNING
OECD defines Tax Planning as
"an arrangement of person's business and or private affairs in order to minimize tax liability" by the use of tax preferences given under the law or by means that the tax law did not intend to tax.
Thus , in order to constitute Tax Planning, the following conditions are applicable :
A taxpayer, arranges its business in such a manner, that it minimizes tax liability;
The arrangement makes use of : –
Tax preferences specifically given under the law ; or
Results in

outcomes that the tax law did not intend to tax

.
  TAX EVASION
OECD defines Tax Evasion as :-
"illegal arrangements where taxpayer pays less tax than he is legally obligated to pay by hiding income or information from the tax authorities''.
TAX AVOIDANCE
"Tax avoidance" means arranging affairs where the main object or purpose or one of the main object or purposes of the arrangements are to obtain tax advantages, although the arrangement , even though it could be strictly legal, is usually in contradiction with the intent of the law it purports to follows.
Thus, one can identify the following characteristics in case of a Tax avoidance:
Taxpayer's affairs are arranged with the main object of, or with one of the main object being to obtain tax advantages
Such arrangement could still be strictly legal ;
The arrangement are usually in contradiction with the intent of the law, which it shows its following .
TECHNIQUES OF TAX AVOIDANCE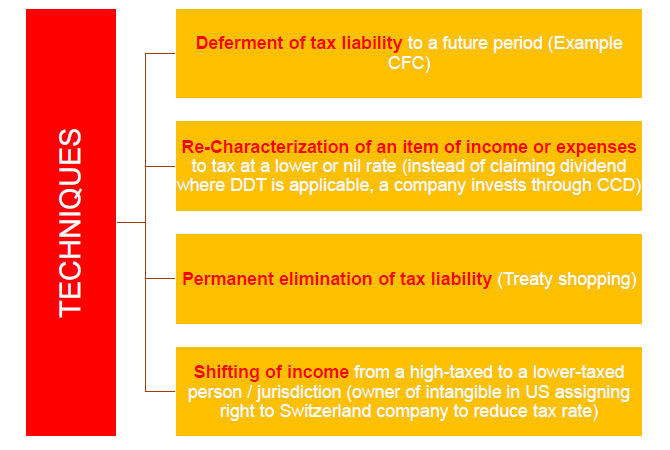 Reader Interactions